Larry Goldberg
Director of Media Access
WGBH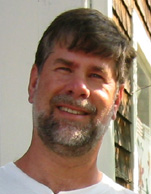 Larry Goldberg is WGBH's Director of Media Access and oversees the WGBH National Center for Accessible Media (NCAM) and two access production/service departments: The Caption Center and Descriptive Video Service.
NCAM is a research and development facility dedicated to the issues of media and information technology for people with disabilities in their homes, schools, workplaces, and communities.
NCAM's mission is to:
Expand access to present and future media for people with disabilities
Explore how existing access technologies may benefit other populations
Represent its constituents in industry, policy and legislative circles
Provide access to educational and media technologies for special needs students.
Mr. Goldberg regularly speaks on media access issues, presents WGBH research at conferences, and consults for government and media and technology companies on access issues. He has been a pioneer in the development of the emerging captioning system for digital television in the U.S. and is a member of numerous advisory boards at the FCC and across the country . Mr. Goldberg was awarded a patent in 1996 for "Rear Window™," the first closed captioning system for movie theaters and theme parks. Mr. Goldberg has a B.A. in Broadcast Journalism from the University of Southern California.